Seller Information
Our sellers receive 70% of their selling price (minus a $10 seller fee) AND get the opportunity to shop the night before the public shops (if you consign at least 25 accepted items). VOLUNTEERS SHOP EVEN EARLIER.
New and returning consignors MUST register to sell. Register early to reserve your preference for your drop off appt. Register online and you will automatically receive a confirmation email.
If you do not show for your drop off appt or cancel your drop off appt by the deadline you will not be allowed to participate at the next upcoming event.
1. What kinds of items can I sell?
Kids quality gently used clothes for boys up to size 32" waist and shirt size XL and for girls up to Junior's size 11/13 (blue jeans and any uniform items accepted year round), shoes (up to ladies 10 and men's 10), baby equip, baby furniture, beds, bedding, decor or pictures, bikes, sports equipment, books, dolls, dress-up clothes, videos, DVDS, big plastic toys, computer games, video games, play houses/gyms, riding toys.
Fall/Winter Sale-August event : Long-sleeve and Fall/Winter clothes only. Solid colored uniform shirts and khaki or navy capri/shorts,costumes, holiday outfits, coats or jackets.
Spring/Summer Sale- March event : Short sleeve and Spring/Summer clothes only. Swimsuits, pool items, swim gear, sandals and all color capris.
Unaccepted items: Maternity clothes, underwear, stuffed animals, value meal toys, used pacifiers/bottle nipples, car seats older than 5yrs old, any recalled item
2. GENERATE YOUR TAGS- Please use our online tag format ONLY. Tags must have encoded prices on every tag for new scanner system at checkout. This will help us have a quicker check out process and turn around time for reimbursements. Tags can be copied onto any LIGHT COLOR CARDSTOCK paper of your choice. NO dark color cardstock paper please. All barcodes must be legible and printed with new ink. We will be checking your barcodes at check-in and if the scanner cannot read your tickets then we cannot accept your items. It will slow the checkout line.
Do not use normal weight paper or construction paper for tags! It rips, tears & just does not hold up to the shopping.
3. TAGGING YOUR ITEMS-
A. PRICES MUST BE ENCODED ON EVERY TAG FOR COMPUTER SCANNERS AT CHECKOUT OR THEY WILL NOT BE ACCEPTED! NO SCRATCHED OUT TICKETS ALLOWED!!
(in .50 cent increments) remember we can't 1/2 25cents. When considering a price for your clothes, think about how much you would pay for the item. We recommend 1/3 - 1/4 of the original price if it is in excellent condition. You can include information or printouts from catalogs, flyers or websites on your items to give people an idea of what things cost new. Or put on the tag "Paid X amount of dollars new". Just keep in mind how much you used it and what condition it is in now. Any items you do NOT want to go for 1/2 price on Saturday must have "ALLOW DISCOUNT NO" to reflect no reduction on Saturday.
(Ex:) Price $3.00 NO
B. Size: Use real sizes only no S,M, or L or lbs. If you have an item that is a 4T but it fits like a 3T then size it as 3T so we can put it with the best fitting size.
C. DESCRIPTION- Details help sell an item. Mention brand name, # of times worn (new, barely worn) if applicable, and brief description. This discourages theft and can also help us match lost items with loose tags.
4. ITEM PREPARATION- Please make sure all barcodes are legible.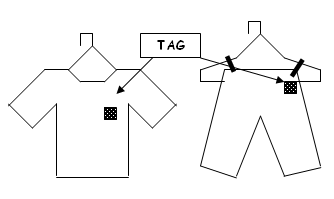 All hangers must face the same direction (like a question mark "?" opened to the left). Tags should be SAFETY PINNED to the garment's left shoulder (on your right as you look at the item). NO STRAIGHT PINS OR STAPLES OR TAGGING GUN TAGS ALLOWED! If you bring your items with these, they will not be allowed on the floor. Use blue masking tape or clear tape to secure tags only when safety pins will not work (books,toys,shoes, etc). Small items or multiple items can be put into zipper lock bags with tag secured to the outside of the bag w/masking tape,packaging tape or blue paint tape (NO SCOTCH TAPE) on all sides of tag & zipper lock opening. We want to make sure no little hands get inside the zipper bags and take out items. Shoes can be tied together with cable ties and safety pin a tag to shoe strings or if they can fit into a zipper lock back with the tag taped to the outside. Do not have shoes in boxes, we don't have the room and the shoes can walk off. If jeans/pants are size 8 and up please fold them in half at the waist and then fold over the hanger before putting the tag on the LEG of the pants. You do not need to pin the jeans to the hanger. This will prevent them from dragging the ground.
Please recheck to make sure DVDs, computer games, CD's are in their cases and that puzzles and games have all their pieces. There is nothing more frustrating than to buy these items and be let down when you get home because they are missing or are not working!
All consigned items must be clean, pleasant smelling and in *WORKING order w/batteries! *Make sure to button all buttons, snap snaps, tie bows and zip zippers! Matching loose accessories should be secured w/safety pins (i.e. bows, belts, bibbs).To keep our reputation of high quality items, we depend on you, the seller to screen your items. Take a little more time cleaning items and you can probably ask more for them. I've added a page with tips for stain removal. We do inspect all items at drop-off under a lot of light which may show unnoticed stains. We reserve the right to refuse any item due to being out-of-date, unclean, stained or ripped. Buyers and sellers appreciate strict high standards.
5. SELLER CHECK-IN-
A. CLOTHING MUST TO BE SORTED BY GENDER THEN SIZE, BEFORE CHECK-IN (OR THEY WILL BE REJECTED). There is not enough time to sort at drop-off. Use twist ties or cable ties or garbage bags around clothes of the same size. This helps so much at check-in to speed things up. Also, if you bring your children to check in please keep them with you at all times. No browsing during drop-off please we will be working at a fast pace to be getting all the items on the floor. If you check in with me and then leave the bldg with your clothes not pre-sorted or a mess, they will NOT be accepted and will be in your items for pick up. We DON'T have time to do the preparation work for you.
B. VERY IMPORTANT- Make sure to bring a self-addressed stamped envelope at your drop-off appt. This is how we get your check back to you. Write your address as both addressee & return address; include seller # in bottom corner. You will exchange this for your ticket into the preview sale. Use a 4 1/8 x 9 1/2 legal size envelope so checks are not late arriving to you. There will be a $0.75 charge to those without an envelope and stamp.
6. PICK UP - Unsold items must be picked up on Saturday between 5:00pm-7:00pm. Unsold items not picked up by 7:00pm will become property of "The Lollipop Kids Consignment" and donated to the charity of our choice. The charity will be at the sale sight at 7:00pm to load the donations onto their truck that same night. There will be NO way to retrieve your items after the 7:00pm deadline. You will need to make arrangements ahead of time for someone else to pick up your items for you if you are unable.
7. CASH YOUR CHECK - Please cash your checks when you get them. We will be working hard to get everything reconciled and checks printed and mailed out within two weeks of closing the sale.
Lollipop Kids reserves the right to reject any and all items that do not meet the established requirements. We carefully inspect for stained, odorous, damaged, obviously worn or outdated items and they will be removed. If they make it through the initial inspection we will pull them and put them aside for you to pick up after the sale.
Please note that we are not responsible for items mistagged, lost, damaged, stolen, or destroyed due to fire or by act of God.

Thank you for following the guidelines for this sale making our sale a great sale! Sellers like you are what make this sale so successful. Our goal is to provide high quality used children's items at a fair price in a very well-organized structure. We hope to develop continual relationships with you sale after sale. Please share our sale with anyone that may be interested in selling, buying or working! I look forward to working with you.
---Rebekah McDowell